Happy Sun's Day:
Announcements:
We don't pray here – we figure God, the gods and goddesses, or whatever powers that be either know already, don't give a fuck, or are busy with more important matters than our petty stuff. We also kind of assume that they expect us to do stuff that we can do for ourselves, and that we will do them ourselves and not be lazy. We also believe in being good friends, so we don't presume on our friendship with the powers that be by asking them all the time for stuff while giving them nothing in return.
We also don't take an offering here.  We figure the powers that be probably don't need it.  Let's be honest, offerings are not giving to the divine powers, they are given to an organization to support it.  Just being honest. God, the gods or whatever never see a dime, farthing or peso of that money; it all goes to the church, mosque or shrine.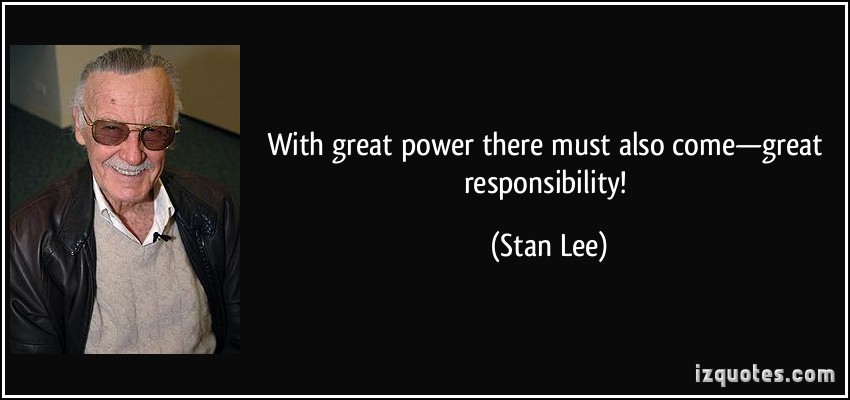 Seems like every time I turn around here some great icon I love has died and this week its a man who probably inspired my imagination more than any other during his life. Mostly because he has been around from the beginning.  Spider-Man was to be my favorite comic character for his human struggles, snappy sarcastic wit and he was just plain cool.  But I also found myself reading Stan's editorial comments in his comic books and discovered a man who was inspiring in his imagination and advice to writers and aspiring comic book artists.  This session of the Pagan Pulpit salutes Marvel Comics' heart and soul – Stan Lee (1922-2018) – RIP.
Opening Song: Spider Man Theme Song 1960s
A song from my childhood and one that celebrates probably the best comic character of all time. It may be a cheesy song from the 1960s but that was normal back then.  In any case, my Saturday morning cartoons were dotted with comic book super heroes and Spidey was one of them.  Stan's ultimate genius was a character that was real as a person but super as a hero.
Poem:
This poem went viral when Stan wrote it. He released it about two years ago.  It speaks for itself.  Stan was a pretty standard poet.  His words however were anything but normal or standard.
Meditation:
Song of Preparation: X-Men Opening Theme
More cartoon stuff but from my teen age to early twenties (yes, I read comics and watched super hero cartoons well into adulthood).  The X-Men were favorites of mine with the underlying tone of them being a call against racism. Stan Lee had a way of letting his characters not only be real, but also they addressed tough issues and the X-Men and its mutants were one of those groups that addressed a hard social issue. Particularly what society does with those that are perceived to be monsters or outcasts.
Text:
"The only advice anyone can give is, if you want to be a writer. keep writing.  And read all you can, read everything."
Sermon:
Writing is one of my passions of course.  People who talk about writing get my attention.  In truth one of my early instructors was Stan Lee.  Not just through reading his comics but he would have an editorial at the beginning of every comic I read specifically to that group or character.  I loved every moment of reading those.  I mean my friends would read comics but I think I was the only one in my group of friends reading the editorial notes and thinking about how the comics were produced.  The one message that came through is that everything started with a great story.
This is still true.  We have digitized just about everything, but the imagination that casts the original story is still in the writer. It wasn't the super powers that caught my attention, it was the characters and the story they were in and Stan Lee recognized this.  That's why his characters and stories survived while many other comics died and disappeared. No matter how cool your graphics, if the story sucks or the people can't relate to the characters, people will not read it.
You have to be real when you write.  Stan had this thing for the real.  His most famous quote about this is that when it came to comic books he felt they were like boobs. They might look great on a computer, but he would rather have them in his hand.  I concur with this observation and I still feel the same way bout books and other things I read.  I like to sit in a chair and read them and I feel they should sit in my hand as real objects that books, comic books or magazines.  I also feel the same about boobs as well.  Some things have more reality than others.  The more senses you use the more real things seem.
The advice Stan gives to writers is two-fold – 1) Never stop writing.  Keep doing it.  2) Read everything you can.  Not unique perhaps but when you hear enough successful writers say this you begin to realize it is probably true.   As I am now considering writing as a career path, the advice seems more applicable.   It's advice I will take to heart for the rest of my life.
Closing Song: Avengers – Earth's Mightiest Heroes – Theme Song:
If the X-Men took on racism, just about every issue along with that one, the Avengers addressed.  One of my favorite groups because the cast of characters was constantly revolving and changing,  It introduced me to a lot of characters and character development and as a writer I love that.
Stan Lee, you cannot know how many of us loved your work.  You were more than a comic book artist or entertainer.  You were a person who inspired many of us to believe that a better humanity was possible.  That no matter how dark the evil might be, heroes would rise up from the human race and fight it. It was this notion that kept many of us from going off the deep end.  Your work inspired my imagination and for that I will always be grateful.
The Rabyd Skald – Wandering Soul, Bard and Philosopher. The Grey Wayfarer.
Skaal!!!